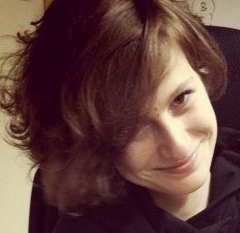 Hello!
I am a master engineer landscape architect, but I'm an illustrator by choice. I mostly enjoy traditional techniques, but I'm into any kind of creative activities. I also like cats, pine forests and playing African drums. And french fries.
I've recently released a short web puzzle about emotional veggies: Karambola that was nominated for A MAZE Awards 2017 in Berlin!
Now I'm working on my second game, this time with animals as characters. If you'd like to help me out financially to finish my next game, release Karambola on different mediums, have creative collaborations on your mind, or interesting work for me, let me know!
Previous clients include:
Comcast, Motorola, Threadless+Gap, TopCoder, 10Clouds, W Punkt, MamPrawoWiedziec.pl, Verigames, Polski Klub Ekologiczny, Geek Girls Carrots, Kocie Sprawy, SWPS, ZOM, many more...
Published comics:
- "Microbe Hunters"- chosen strips in the monthly magazine Kocie Sprawy (since 2012)
- "Chateau d'Arrakis" in Kolektyw #9 (2011)
- "I told you not to go to sleep hungry" in Biceps #2 (2011)
- "1410" at Esensja.pl (2010)
- "Windmills" excerpts in Ligatura Catalogue (2010)
Group exhibitions:
- travelling exhibition "The Last Match" (since 2010)
- "Polish Female Comics" in Białystok (2010)
Other achievements:
- many prizes in TopCoder Studio along with Studio Cup achievement - 4th place (Feb 2013)
- Took part in Ligatura Pitching with project "Windmills" (2010)
- Winner in a comics competition about "The Witcher" game, organized by gram.pl (2008)
More:
For more comics visit Microbe Hunters